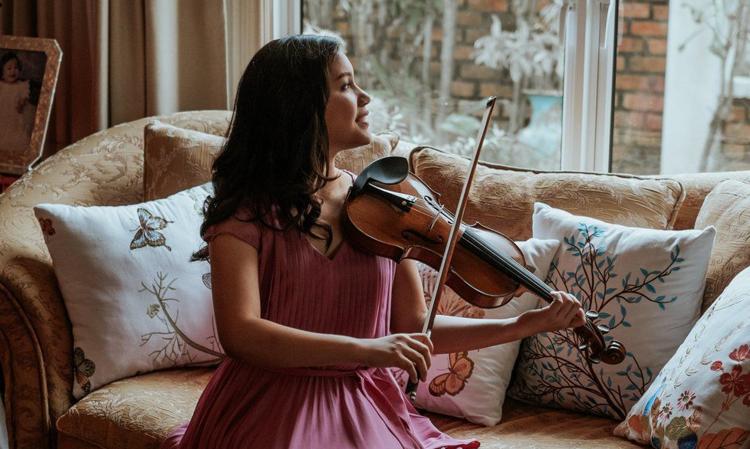 A second-year student at the University of Cincinnati College-Conservatory of Music (CCM) will perform at Weill Recital Hall at Carnegie Hall in New York City Saturday Oct. 12 at 7:30 p.m.
Born in the Philippines, Kristine Clair Uchi "KayCee" Galano has been playing the violin since she was four years old. Her mom was a piano teacher and, since it was the only instrument at home, Galano started playing piano as well.
"When I was in kindergarten, I would go with my mom to her music school every day," Galano said. "Next to her piano studio was a violin studio. I would sneak in there and listen in on the lesson until I finally decided I can't pull back anymore, I really want to try this instrument."
Hesitant at first, Galano's parents eventually bought her a violin and she soon proved to be a natural. When she was ten years old, Galano met UC professor Kurt Sassmannshaus in China at the Great Wall International Music Academy – a music festival Sassmannshaus founded. Galano played the first recital of the festival. Afterward, Sassmannshaus came up to her and asked who her teacher was. She did not have one.
For five years, Galano received lessons from Sassmannshaus through Skype, and would only see him once a year.
Galano came to the United States in 2015 enrolled under the Starling Project Foundation Cincinnati — an educational program for young string players.
After learning from Sassmannshaus and the Starling Project, Galano knew she wanted to attend school in Cincinnati and go to CCM. She enrolled in 2018 to pursue a bachelor of music in violin.
Throughout her career, Galano has performed concertos with orchestras in Europe, China, North America and in the Philippines. She won first prize at the Malaysian Youth Music Festival and at the Great Wall Violin Concerto Competition in Beijing. At 14 she toured the United States with pianist Rohan DeSilva. Galano has also toured China with the Starling Chamber Orchestra.
In January, Galano was approached by one of her professors about performing J.S. Bach's six sonatas, each 20 minutes long. At the time, Galano did not know she would be performing them at Carnegie Hall.
"The whole process, and trying to get it all into my head, and to be able to perform it all in one evening has taken a while," Galano said. "My professor helped me a lot in practicing, making sure that memory slips don't be a problem and that I get all the notes in there."
Galano has been practicing two sonatas a day and began running through them last summer. She ran through them all for the first time at the Bowdoin International Music Festival. Galano is also performing all six again this Wednesday, Oct. 2, at CCM in the Robert J. Werner Recital Hall at 8:30 p.m.
Throughout her time at UC, Galano is grateful for all the connections she has established.
"After meeting so many people here and outside, like in China, and in several music camps, I'm really amazed by how small the music world is," she said. "Even though we're small, we can still get the word out there, we're still spreading a lot of music… I'm so happy about it."