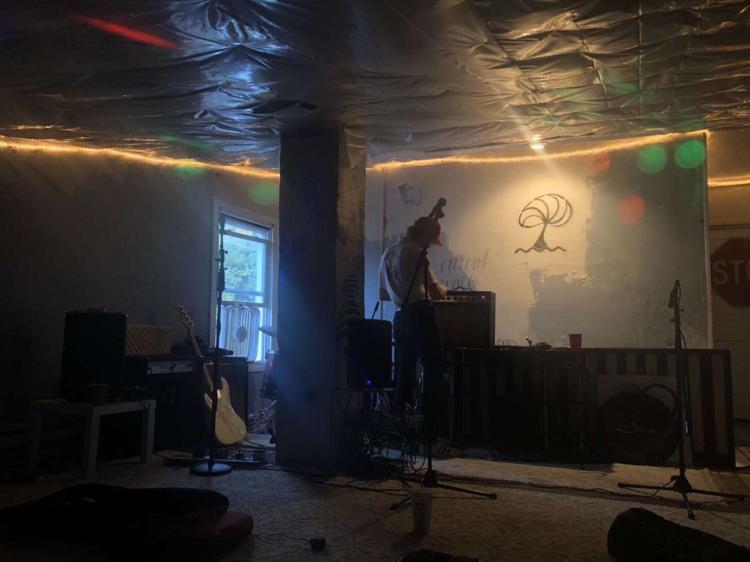 Starting a business can be a major undertaking for anyone — the amount of time, money and organization involved in running a company can take a toll on even the most put-together person, nevertheless a full-time college student.
Nolan Monigold, a third-year commercial music production student at the University of Cincinnati College-Conservatory of Music (CCM), thrives under pressure. Despite a continuous load of coursework and a college student budget, he managed to open up his own recording business, Monigold Studios, on West Clifton Avenue in 2017.
Monigold grew up in Canton, Ohio, and originally wanted to pursue a career in mechanical engineering. He said an experience with a friend's band during high school was a turning-point moment for his long-term plans.
"I fell in love with the sound board," Monigold said. "After the gig, all the parents came up and told me, 'that's the best they've ever sounded, how did you do that?' and from there, the rest is history."
Monigold's path to music was further aided by his parents, both high school band directors. He says that he was lucky to observe them in action at a well-funded program, but ultimately seeing his parents jump through the hoops that accompany jobs in education led him to other facets of the music field.
After beginning his studies at CCM, Monigold decided the best option for living out his dream of producing music was to take matters into his own hands.
"I had a little setup in my basement back home, but it was realizing I wouldn't be able to utilize CCM's studio until my junior year that really pushed me towards committing to the build," he said. "Countless people have bedroom studios with a small two-input recording interface and some monitors. There is absolutely nothing wrong with that setup, but I never felt any level of professionalism from having someone stand in your bedroom and sing into your closet."
From there, Monigold discovered having ample space was the key to running a successful operation. He drew inspiration from fellow students Drew Sliger and Jake Kricket of Leftfield Recordings who had turned their apartment into a multi-room studio with a sound booth in the living room.
"My landlord is absolutely amazing and has trusted me to renovate one of the empty apartments in his building and turn it into a studio with a live room, control room and extra storage space for gear," Monigold said, emphasizing the freedom that came with the location. "The nicest thing about having my own space is that I can use it whenever I want, it's always there and it's my stuff and I know how all of it works because I set it all up."
Since its opening, Monigold Studios' Clifton location has taken on a life of its own. It now operates as a small concert venue in addition to acting as a recording studio, where Monigold has hosted shows, karaoke nights and a memorable Halloween Spooktacular event. He affectionately refers to the space as "Grandpa's Attic," derived from a joke between his friends and an appreciation for his grandfather.
"My grandpa, Nick Liossis, is one of the best people that I've ever known," Monigold said. "When I got to college, he would sporadically send me money in the mail to 'buy beer.' Little did he know, he was funding the building of this space."
After graduation, Monigold plans to keep Grandpa's Attic open permanently with the hope that it could someday be run by student interns. He also envisions a move to the west coast.
"It's my goal to move to LA, opening another branch of the company in a similar way — finding a broken down space and breathing life back into it to create a studio that has character," he said. "I love the concept of music resurrecting a building."
For now, Monigold intends to keep his business geared toward a Cincinnati customer base, which includes many startup acts that come out of CCM. To accommodate, Monigold Studios charges an affordable rate of $20 per hour, including free consultations.
"I charge what I feel I'd be comfortable paying," Monigold said. "I'm the first to admit that my gear is not the best, my space is not the best and I don't know everything about the industry. However, I'm learning and constantly getting better gear, and whenever I'm working with a client I'm going to do everything in my power to make sure they receive their money's worth."