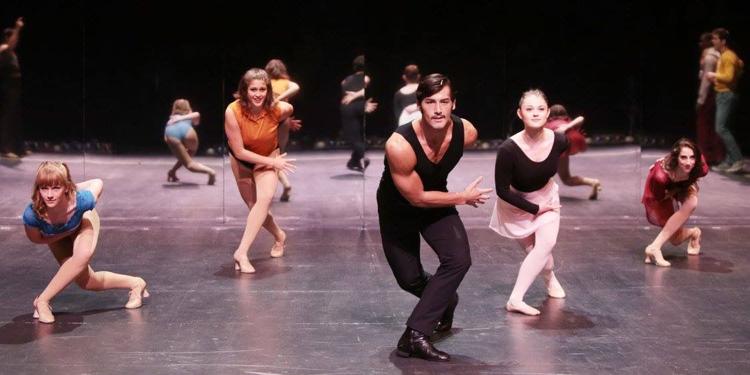 Each year, Playbill publishes its annual report on the colleges and universities producing the most alumni on Broadway in the last year.
The University of Cincinnati College-Conservatory of Music (CCM) landed on this year's list as number six.
"I knew coming in as a freshman that I was entering a program that trained you how to be marketable and work in the industry, so it's validating to know that students leaving the programs are getting incredible jobs," said Mikayla Renfrow, a third-year musical theatre student. "Everyone [at CCM] is striving for excellence, and I think it's quite noticeable when we step out into the real world."
Also among the ranks were New York University, University of Michigan, Carnegie Mellon University, the Julliard School and the American Musical and Dramatic Academy.
Gary Cooper, who graduated from the musical theatre program in 2017, made his Broadway principle debut as Billy Flynn in Chicago on Broadway in August. He has been with the show since April as the judge, the doctor and as an understudy for Billy and Fred Casely.
Cooper said he credits the faculty at CCM for the success of alumni such as himself on Broadway.
"I am very proud of my alma mater for being ranked alongside these other fantastic programs," Cooper said.
To create the list, Playbill looked at every actor on who performed in a Broadway show from July 23, 2018 to May 29, 2019. If an alumnus was in a show that opened May 30, 2019 or after they were included in this year's list. Colleges were found from public sources such as Playbill and actors' resumes.
"I think we make those lists every year, which is so exciting and super important so that we keep our great reputation up and our good representation in the business both on Broadway as well as in national tours and regional theaters," said Katie Johannigman, adjunct assistant professor and a 2012 alumnus of the program.
After graduating from CCM, Johannigman worked as an actor in New York City for seven years before returning to teach at her alma mater in 2017. Because of her experience in the city, she's able to bring her students real and relevant stories as well as tips on how to be an actor in New York and connect them with alumni all over the country.
"We are hoping to start a new mentorship program where we pair alumni up with students who are just about to graduate so that they really have a strong buddy there when they get to the city," she said. "It's really cool to see how our alumni want to help and work with the newly graduated, as well as wanting to come back and teach."
CCM's alumni on Broadway in the past year include:
Christy Altomare (Anastasia)
Shoshana Bean (Waitress)
Nicholas Belton (Carousel)
Giovanni Bonaventura (Hello, Dolly!)
Kathryn Boswell (Anastasia)
Preston Truman Boyd (Kiss Me, Kate, The Play That Goes Wrong)
Josh Breckenridge (Come From Away)
Ryan Breslin (Beetlejuice)
Justin Scott Brown (Anastasia)
Kyle Brown (Anastasia)
Andrew Chappelle (Hamilton)
Max Clayton (Pretty Woman, Hello, Dolly!)
Gary Cooper (Chicago)
Nikki Renée Daniels (The Book of Mormon)
Josh A. Dawson (Beautiful)
Alex DeLeo (Wicked)
Alysha Deslorieux (Hamilton)
Mia Gentile (Kinky Boots)
Garrett Hawe (Carousel)
Blaine Krauss (The Cher Show, Kinky Boots)
Leslie Kritzer (Beetlejuice)
Vicki Lewis (Anastasia)
Kelly McCormick (Carousel)
Adam Monley (Tootsie)
Sean Montgomery (Beetlejuice)
Bill Nolte (Waitress)
Michele Pawk (Beautiful)
Samantha Pollino (Head Over Heels)
Angel Reda (The Cher Show, Chicago)
Noah J. Ricketts (Frozen)
John Riddle (Frozen)
Jason Patrick Sands (Chicago)
Christine Cornish Smith (Kiss Me, Kate, My Fair Lady)
Kimber Sprawl (A Bronx Tale)
Raven Thomas (Hamilton)
Daniel Torres (Beautiful)
Sharon Wheatley (Come From Away)