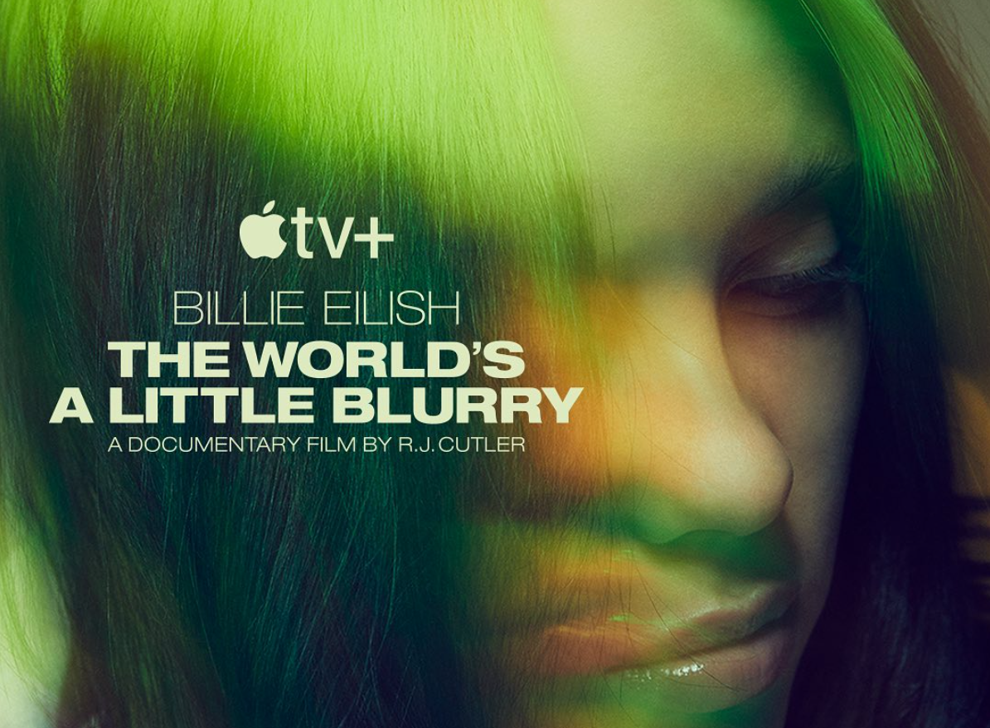 Apple TV+'s new documentary about Grammy-winning singer, Billie Eilish, is set to drop on Apple TV+ and in select theaters on Feb. 26.
The Apple Original Film, "Billie Eilish: The World's A Little Blurry," made in collaboration with Eilish's record label, Interscope Records, was directed by R.J. Cutler and will feature footage from Eilish's public and personal life, including home videos filmed throughout Eilish's life. 
Filmed from 2018 into the first months of 2020, the documentary will predominately show Eilish during the years in which she was making "When We All Fall Asleep, Where Do We Go?," her debut studio album that won her five Grammy Awards, including album of the year, making her the youngest person in history to win.
The trailer, which premiered in December, shows Eilish performing for crowds and walking red carpets, but also shows more mundane parts of Eilish's life, such as getting her driver's license and spending time with her brother and collaborator, Finneas. Though the film will feature the achievements of Eilish's career, the documentary will also show us some of the more relatable milestones of her youth that took place during filming, such as getting her first car — a Dodge Charger, gifted from her record label — and becoming a legal adult.
Though Eilish is anything but an average teenager, the documentary will include themes that many young people can relate to. Cutler recently told Entertainment Weekly, "It was very clear to me from day one that I was telling a coming-of-age story."
As an outspoken advocate for mental health awareness, we can expect the documentary to touch upon Eilish's own struggles with mental health. "You guys need to be okay, 'cause y'all are the reason I'm okay," she tells a concert crowd in the trailer. Eilish has been very open about her battle with depression, body dysmorphia and anxiety, even admitting that she was "not in a great mental place" during the making of her debut album.  
When discussing the first time she watched the footage from those darker times in her life, Eilish said, "It was brutal to relive." Despite this, Eilish has expressed excitement about the footage being included in the film, saying she is happy that people will see footage with such emotion. She even compared it to the television show "The Office." Luckily, Cutler revealed in an interview that this was one of Eilish's requests when development for the film first began, citing the strong relationship John Krasinski's character had with the camera.
Eilish also recently revealed to Vanity Fair that the documentary will discuss aspects of her life that she never thought she would be sharing with the world. Namely, her romantic relationships, promising us that we will see a side of the hit-maker that we haven't seen before. 
The popstar's rise to fame and success at such a young age is sure to make for a pop-documentary unlike the ones we've seen before. As her career has taken off at such a young age, "Billie Eilish: The World's A Little Blurry" is sure to show us both a success story in the making and a teenager coming into her own.