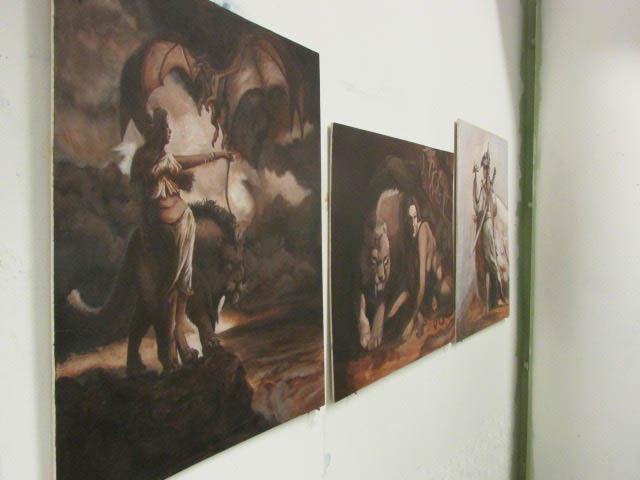 Deep within the halls of the school of Design, Architecture, Art and Planning lies the studio of senior fine arts student, Melinda Isaacs. Here, she keeps busy bringing to life her fantasies: dragons, saber tooth tigers, fantastic wolves and striking women.
Outside of the fantasy realm that is her studio, Isaacs also runs her own website design company where she works with artists, small business owners and entrepreneurs. 
Isaacs gave The News Record an inside look around her studio and talked about her background as an artist, her opinions on the genre of fantasy and her artistic process.
TNR: When did you first take an interest in art?
Melinda Isaacs: I've been basically drawing since I could hold a pencil, but I really got into it probably when I was around six or seven. My dad, he was into art, and he actually went to DAAP for a little bit. He would always push me, you know, he would show me these artists and I would try to emulate them. 
I'm very competitive, so he would be like, "I know you can do better," and I started working on it more, and basically ever since then it's all I've done.
TNR: Is fantasy a common theme in your work?
MI: Oh, yeah. DAAP is more conceptual — or most of the professors are more conceptual. So, I'm breaking out of that by producing fantasy art which could be considered, like, a trope or whatever. 
But basically, my fantasy art is my escape. So, it is a common theme for me. 
I'm really into video games, too, and one of my favorite games is "The Elder Scrolls IV: Oblivion." And that is what inspires a lot of my work. When I was actually painting these pieces, I had the entire soundtrack on repeat. A lot of these are inspired by the songs.
TNR: Does music inspire a lot of your art?
MI: Yeah, the one that I'm working on now is inspired by "Sunrise of Flutes," which, normally when you are walking through town in "Oblivion," it will be playing. I was really inspired by that for this piece.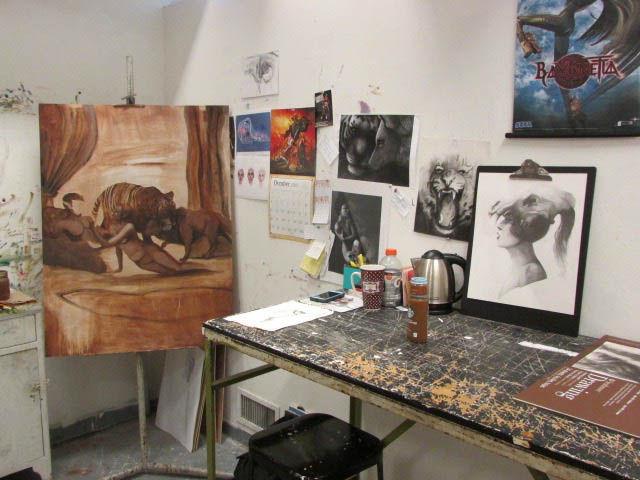 TNR: Can you tell me about the series of pieces you are doing for your thesis?
MI: In my thesis work, the faces of the women are the character's faces, but the bodies are mine. 
I struggled with anorexia for about four or five years back in high school and went from one end of the spectrum where I wasn't eating to the complete opposite where all I did was eat.
I have a huge issue with my body image and I'm trying to come to terms with that in these works.
As you progress through the pieces, you go from very clothed bodies, then as you move on the body is still shielded but you can kind of see the body, and then it gets more open, until eventually you just get to the point where I just don't care. My body is what it is.
A lot of my work is driven by experience. Whether or not I show the experience in the piece, my artwork is my escape. So, when I'm dealing with something I'm not happy about, I escape into my art world and then try to get through it.
TNR: Can you talk about your opinion on women in fantasy art?
MI: While it is beautiful, they have this expectation of beauty that women have large chests, large backsides and a tiny waist. I don't necessarily agree with that. I feel like that gives a lot of women this thing they feel like they have to strive for, which is not feasible because it is not real. 
So, a lot of my fantasy art — while I can go back to those images sometimes — I'm trying to become more in tune with my body. So, in my work, I'm trying to show, you know, you don't have to be thin, you don't have to be tiny to be beautiful.
TNR: As a child, what are some things that first turned you on to fantasy?
MI: I was really into "Dungeons & Dragons" and video games. I started out on the Super Nintendo with like "Super Mario World," "Galaga." I became interested in those games and as the fantasy genre started emerging, then I got into those. 
I'm also a huge Disney nut. A lot of my inspiration comes from my love of Disney movies.
TNR: What kind of preparation do you do before you move on to a final piece?
MI: A lot of it has to do with sketching digitally. I start out with a sketch, then I'll have it printed as big as I need it. I'll have it transferred to paper or panel. Then, I'll paint it in a sepia undertone and I will take a picture and throw it back into photoshop to do a color composition.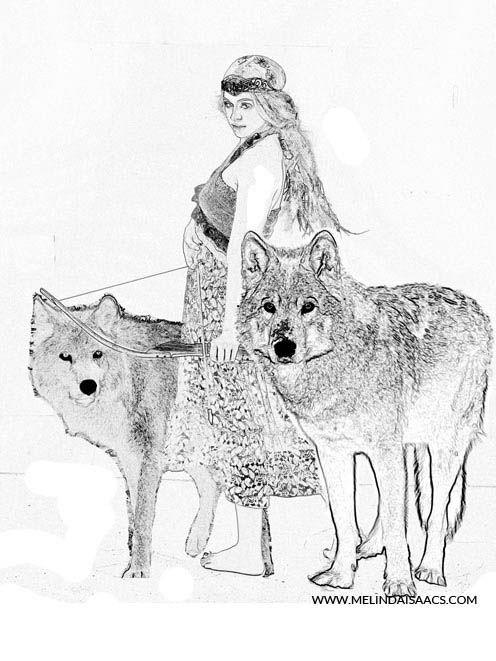 And I go back through with the color comp printed and have that with me the entire time I'm coloring the actual piece.
My process deals with a lot of studies and then I'll get hit with an idea. I'll sometimes, maybe, do sketches of the ideas, but other times, I'll go with one composition, one way that I want it done and just do it. 
TNR: Is there a dream place that you'd like to see your art?
MI: I would love to work with Bethesda, considering my favorite game is "The Elderscrolls IV." I would love to work with them on one of the "Elderscrolls" games, so I am trying to build my portfolio to be able to work with them. 
If I can't, you know, it's not that big of a deal, but it is one of those dreams I hope to accomplish. At the very least, I'd like to see my artwork in magazines like "ImagineFX" or "2DArtist."