The fusing of two separate cultures in art often leads to distinct style and meaning. Such is the case for Bukang Yu Kim, a Korean-American artist who is based out of Cincinnati.
Kim has had shows in the U.S., Europe and Asia. Her most recent exhibit at the Cincinnati Art Museum is titled "Journey," and includes twelve pieces that represent her life as an artist.
The paintings are expressive, dreamlike pieces on massive canvases. Her work ties qualities of Asian calligraphy and brushwork together with the emotive and dramatic feeling of American Expressionism.
Kim spoke with TNR about what art means to her, the difference between Eastern and Western approaches to art style and education and how her artwork reflects the world around her.
TNR: Did you always know you wanted to be an artist?
Bukang Kim: Not since I was very little, but since I was in high school. In Korea, there are entrance exams that you have to prepare for and pass. If you go into a fine arts major, there is a lot of practice and exercise to do. Like piano practice if you want to be a professional piano player.
TNR: Your work has been described as a mixture of Asian art styles and American Abstract Expressionism. Is that how you would describe your own work?
BK: Yes, that is right. That kind of attitude and approach. Expressionism is very quick, and shows feeling and what is felt behind the image. For example, if it is snowing outside and I am happy about it, I want to show the feeling of coming upon that landscape. Or, I want to paint Korean architecture, but I want to present the idea of Korean culture within it.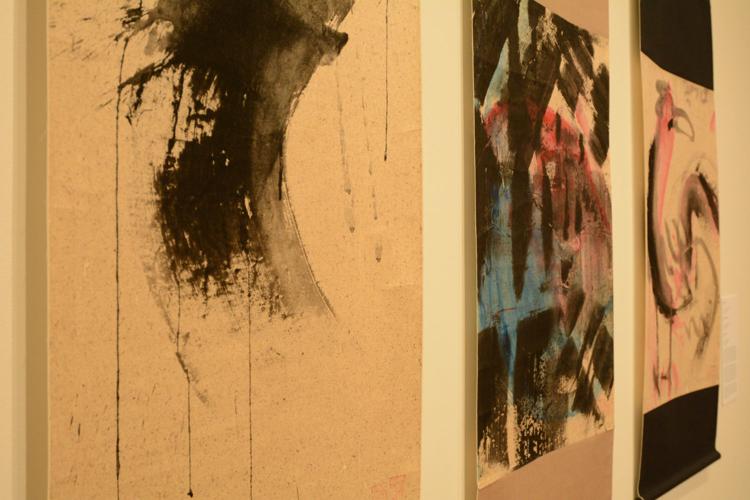 TNR: Do you feel like your art changed when you came to the United States?
BK: Eastern culture really emphasizes form and line, where Western art comes from Europe and depends heavily on where light is coming into the picture. I have been living here for a long time now, and have picked up this and that from American art.
TNR: Would you say there is a difference between Korean and American art education?
BK: Korean education teaches you how to paint very well, very realistic. In the U.S., the teachers always say it is about what you want or how you want to express yourself. So, that is a difference between these systems. When I started the program at UC, I asked a professor, "What do I do now?" and he said, "I don't know who you are. I don't know what you want to create." In Korea the answer is, "Do this, do that." In America, once you learn the basics, it is all about you.
TNR: Do you feel like your art has helped you figure out who you are as a person?
BK: Oh yes. In art, you cannot lie. You can't do any art without what you have inside.
TNR: What does the title of your exhibition, "Journey," mean to you?
BK: I feel like my life is a journey. One day there is a problem, the next day it is gone. That problem is nothing compared to the whole journey. There is a larger way I view living. Asian culture views nature and time as changing, ongoing things. I am always changing.
TNR: How does the U.S. inspire your work?
BK: I drive a lot. I have kids in New York and L.A. now, so I drive a long way at least once a year and observe the changing land from the window. I am interested in the landscapes of the U.S. When I go to L.A., I can find seascapes but they are not the same as the seascapes in Korea. Or I go to Kentucky and find mountains that are different than mountains in Korea. I am a landscape artist so I feel like differing geography represents different culture. Even in America, if I lived in Arizona my artwork would be different than in Ohio.
TNR: You came to the U.S. when you were in your twenties. Do you have any advice for people who want to be successful in a radically new environment?
BK: I have friends in Korea who say, "If you lived in Korea, you would be very famous and successful." But I don't mind. Since I moved here, my life is richer and there are a lot of things I have achieved. So, I suggest to young people to not be afraid and to try hard wherever they are.