The 10-2 University of Cincinnati Bearcats football team faces the 6-6 Virginia Tech Hokies Monday in the Military Bowl in Annapolis, Maryland. We'll be providing live updates of the game on this page, so be sure to check back. Kick-off is set for noon.
Final: UC 35, VT 31. This is the first time a UC football team has reached 11 wins in a season since 2009, when it finished 12-1. The Bearcats end their season with a 11-2 record. This is Luke Fickell's first bowl win as a head coach.
Second half:
0:33 4Q - James Wiggins intercepts VT, giving UC the 35-31 win.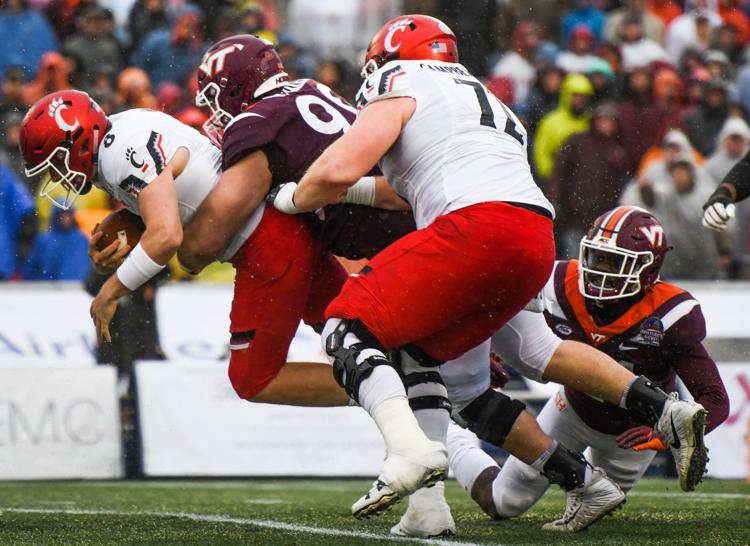 1:29 4Q - Michael "The Truck" Warren rumbles in for a 8-yard touchdown. Bearcats lead 35-31.
3:45 4Q - UC forces a punt and takes over at their own 36-yard line. Trailing 31-28.
6:44 4Q - Bearcats unable to put together a scoring drive after forcing a fumble. Hokies still lead 31-28.
9:57 4Q - Hayden Moore is intercepted by VT's Dylan Rivers. Hokies take over in the red-zone. 
10:32 4Q - VT QB Ryan Willis scores on a 5-yard keeper. Hokies retake the lead, 31-28.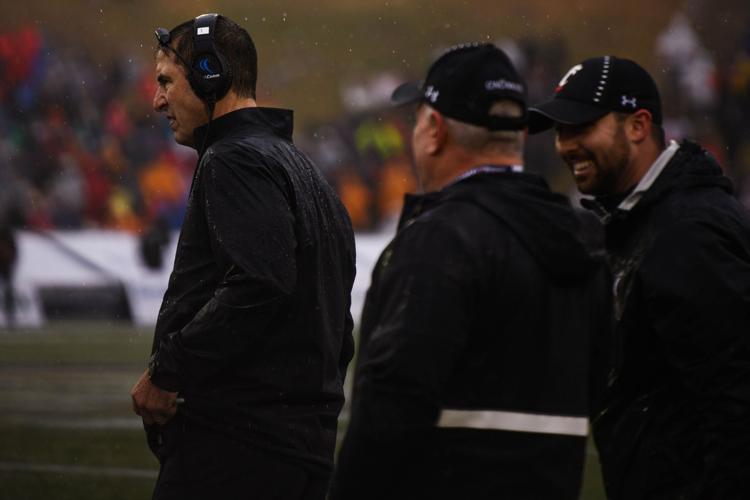 12:44 4Q - Hayden Moore keeps it himself for a 19-yard touchdown run. Bearcats back on top 28-24. The senior back-up is filling in nicely in his final collegiate game.
1:52 3Q - VT bounces back with a long 14 play, 72-yard drive that ends in a 2-yard touchdown reception by Chris Cunningham. Hokies take the lead, 24-21.
9:16 3Q - Michael Warren II scores his 19th touchdown of the season on a 40-yard run. He's up to 108 yards on 13 carries. Bearcats lead 21-17.
10:21 3Q - VT kicker Brian Johnson connects on a 28-yard field goal. Hokies take a 17-14 lead.
Halftime: UC 14, VT 14. UC starting quarterback Desmond Ridder will not return after suffering an ankle injury. Back-up senior Hayden Moore is 3-of-5 passing for 47 yards.
Bearcats edging the Hokies in total yards, 223-to-211. UC's Michael Warren II has a game-high 50 rushing yards on 10 carries. 
First Half:
0:28 2Q - After a false start, VT misses a 41-yard field goal attempt that would've given them the lead. UC takes a knee to end the 1st half. 
7:04 2Q - VT running back Steven Peoples punches in a 1-yard touchdown to tie it, 14-14. UC's Charles McClelland fumbles the ensuing kickoff and the Bearcats start their drive inside their own 5-yard line.
8:46 2Q - timeout UC, still leading 14-7. Desmond Ridder (ankle injury in 1st quarter) will not return to the game for the Bearcats, meaning back-up QB Hayden Moore (senior) will end his UC career with a bowl game in his hands.
11:22 2Q - Touchdown UC, 14-7. Warren takes a direct-snap inside the 1-yard line and fumbles into the end-zone. Wide receiver Kahlil Lewis pounces on it for the score. Play was reviewed and confirmed. 
End of 1st Quarter - UC 7, VT 7. UC running back Michael Warren with 32 rushing yards on five carries.
2:30 1Q - Ridder injured, back-up senior QB Hayden Moore in. Bearcats forced to punt. Hokies take over at their own 2-yard line.
7:46 1Q - UC quarterback Desmond Ridder finds running back Charles McClelland on a screen pass for a 38-yard touchdown. Bearcats and Hokies tied 7-7.
10:22 1Q - Virginia Tech strikes first with a 21-yard touchdown pass from quarterback Ryan Willis to wide receiver Eric Kumah. Play is reviewed and stands. 7-0 Hokies.
Check out highlights from the 2015 Military Bowl in the gallery below:
Annapolis, MD Military Bowl game