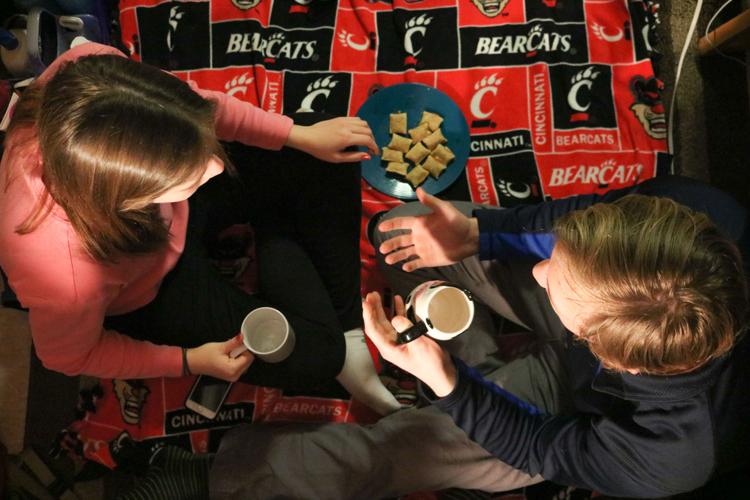 Aerial yoga, prohibition, a cemetery, shaping glass art and puppies aren't usually words that remind people of dates.
But if you approach these subjects with an open mind, you'll find that Cincinnati holds unique activities for every type of couple.
For a fun and casual date without the overwhelming Valentine's propaganda, check out Woodward Theatre's prohibition-themed party withThe Cincy Brass at 8 p.m. on Feb. 13.
Tickets are $15 and period costumes including flapper dresses, wing-tipped shoes and fedoras are welcome.
If you want to show off your athletic abilities to your date, take them to a class at the Cincinnati Circus.
No experience is necessary for the $25 classes in aerial yoga, fitness, silks, performance and hoop dance.
The Cincinnati Nature Center and Spring Grove Cemetery and Arboretum are beautiful locations whether it's sunny or snowy, or to go on a run or romantic walk with a date, as long as the fact that you're in a cemetery doesn't creep you out too much.
For Instagram and selfie-junkies, Cincinnati's American Sign Museum is perfect for colorful pictures, full of glowing neon signs from the past, for only $10 with a student ID.
For an artsy, hands-on date and those looking for a new medium to work with, book a glass shaping class at Brazee Street Studios for $60 on Feb. 13.
Without any experience, you can work with glassmakers to create your own heart shaped bowl, plate, coasters or paperweights.
Mill Race Banquet Center's mystery dinners provide suspense and humor during an interactive dinner for $35 plus tax. A cash bar is available as well.
Their shows include Luau Lunacy, A Night at the Oscars, Magical Mystery, Trouble in Oz, and more on Saturday nights.
The Sharonville Convention Center is hosting My Furry Valentine Feb. 13-14, a pet adoption event with over 500 dogs, cats, and other animals.
You can just play with puppies or take home a new buddy with swag and enter in a raffle.
Early bird passes for 10 a.m. Saturday are available for $15. General admission tickets are $3 or free with a voucher available from UDF stores.
Cin City Burlesque is performing Beaus & Eros,"a romantic night of rambunctious fun," according to the Burlesque.
Shows are scheduled for 7 p.m. and 10:30 p.m. Feb. 13 at Bogart's. Tickets are $15.
The quality of dates doesn't always depend on the cost. It's easy to make the best of any date by creating your own games, like thinking of back- stories for figures in a painting or imagining the voice a zoo animal would have if it could speak.